I can't stress enough how important self care is. Taking time to relax and take care of your body is crucial to leading a happy life. How do I do this in my everyday life? SKINCARE!
So I thought I'd introduce you to my favourite skincare brand, Clear Skin Days.
I've found a simple and consistent skincare routine has been benefitting my skin massively. I've tried many brands and products but I've recently fell in love with skin care brand Clear Skin Days. They're a skincare brand focused for blemish prone skin and gaining skin control and confidence. However, all the products are still suitable for all skin types. I only experience the odd spot and my skin can often become dry or oily depending on the weather. So using Clear Skin Days in my every day skin care regime has been so rewarding.
All products are vegan, cruelty free + fragrance free as well so what's not to love?!
For my morning and night time skincare routine, I tend to use the same products. However, in the evenings I will use some targeted treatments. Your skin repairs itself overnight so the evening is the perfect time to use stronger acids for your skin.
Morning Skincare Routine:
Every morning it is essential to cleanse, tone and moisturise your skin. I cannot tell you how important it is to wash your face every morning and night!
I always begin by washing my face with Clarifying Cleanser which gently exfoliates my skin. This cleanser is definitely a must have product if you have oily skin. The salicylic acid in the cleanser reduces oil and unblocks pores.
After washing my face, I take the Clarifying Toner on a cotton pad. Toner helps to balance your skins pH level and the lactic acid in this toner makes your skin hydrated and smooth. I can't believe I never used to use toner in my skincare routine, it's a staple for me now!
I continue to hydrate my skin by using the Clarifying Serum, with glycolic and salicylic acid it not only hydrates your skin but removes dead skin cells and prevents future breakouts.
And to lock that all in place, I finish by using Clear Skin Days Mattifying Barrier Moisturiser. A must have product if you have oily skin. I've noticed a huge difference in my skin since using this, I recommend if you have oily skin or are prone to spots/breakouts.
I follow this skincare routine daily and you can buy all four products in Clear Skin Days Daily Essential bundle, as who doesn't love a bargain?!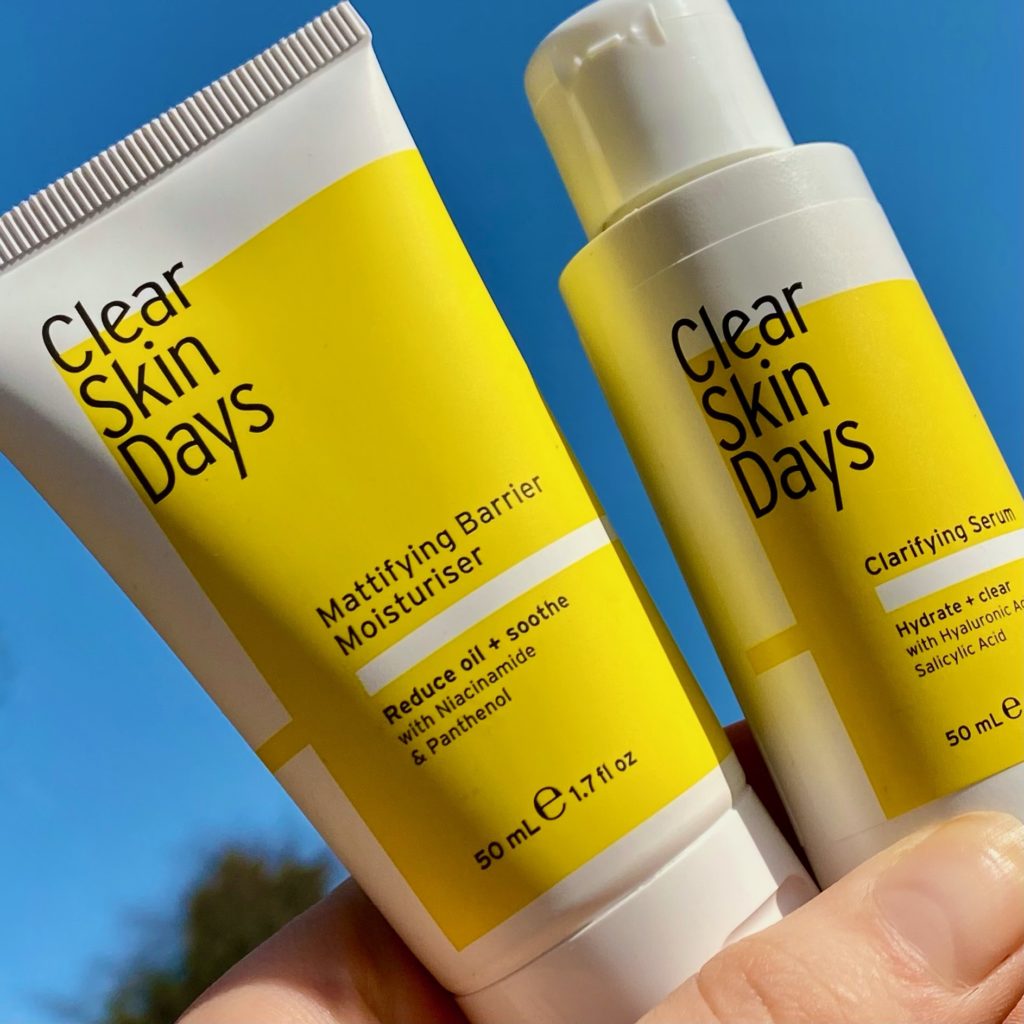 Evening Skincare Routine:
My night-time skincare routine follows the same steps as my morning routine. However I sometimes add in a couple more products if I have an area of concern that I'd like to target or a blemish.
For when I have an odd spot, I'll use the Blemish Repair Paste. This is my favourite product EVER!! I apply this directly to my spot overnight and it significantly reduces the size of my pimple and calms the area of skin. Or if my spot has more gunk in that I want to extract, instead of popping it, I use Hydrocolloid Blemish Clearing Patches. I love a pimple sticker and these ones from Clear Skin Days are fabulous!! And a pack comes with 4 different sticker sizes, AMAZING!!
Having a consistent skincare routine works wonders for my skin and it's so important to look after your skin. So treat yourself to some new skincare at Clear Skin Days and have a self-care pamper night!
Any skincare related questions (or just to say hi), you can find me on Instagram @luxebykate
Kate xx