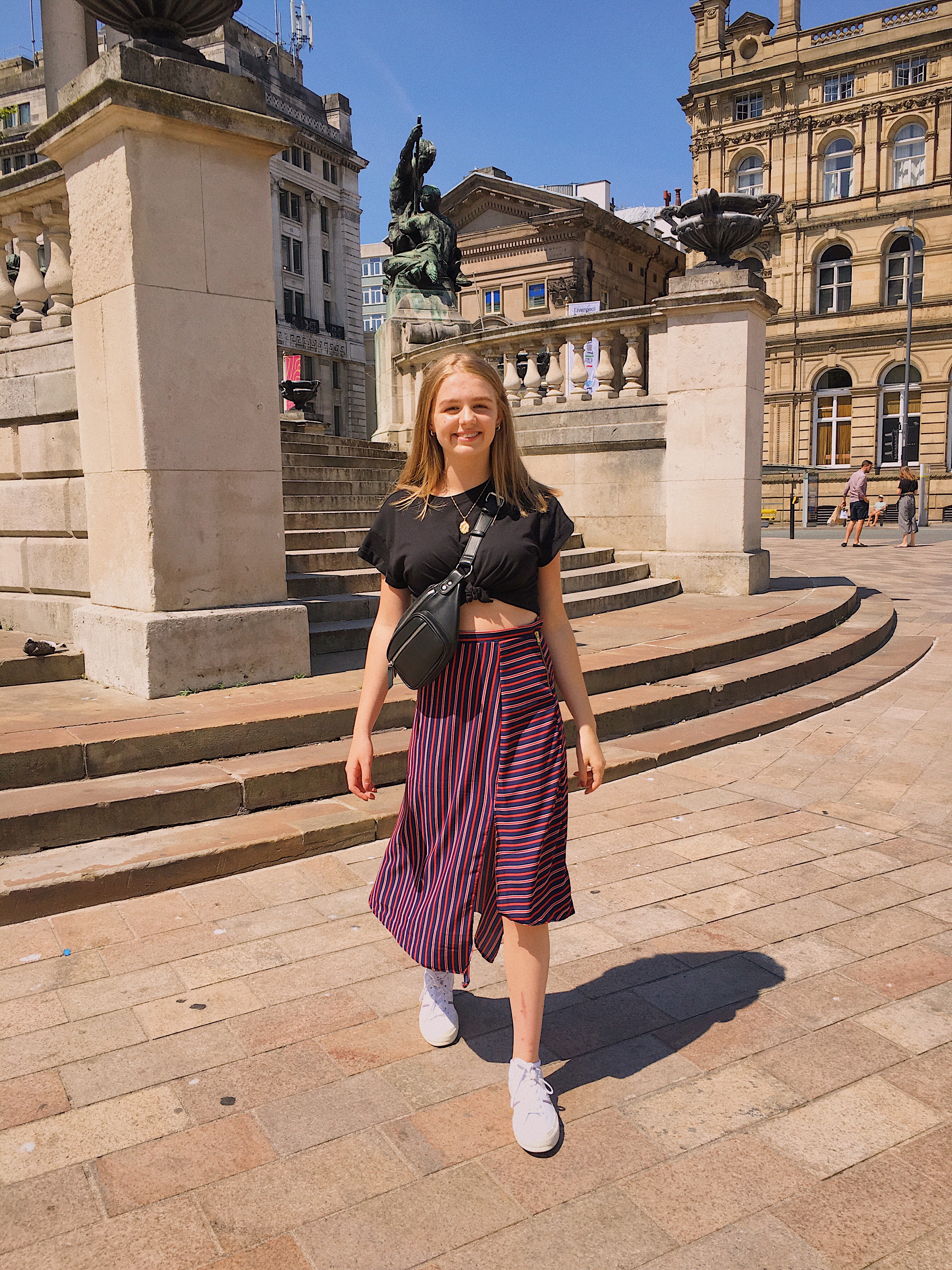 Hello my loves! I'm back today with an outfit post however slightly different today. Half of my outfit has been made by yours truly… I love sewing although I'm really not the best at it! And I've never ever worn anything I've made in public. So this was a first for me but I'm quite proud of myself so of course I had to share it on the blog!
I have been adoring midi skirts recently, I think they're so stunning! My sister has this gorgeous one from River Island (shop here) however I'm trying to save so didn't want to spend £30 on my own. After figuring out her skirt was made by only 4 different pieces, a waistband and straight stitches. I decided I would make my own. And it surprisingly worked which I really didn't expect.
I despise making patterns so it took me a whole day and a lot of frustrated tears to draw the pattern. I made the pattern myself on grease-proof paper… Any normal person would buy pattern paper but I don't have any so had to make do with sellotaping grease-proof paper together… I bought all the fabric for £3.15 from the scraps in a fabric shop, a £1.50 zip and £1 interfacing.  So a total of £5.75 was spent which is a total bargain and I really enjoyed sewing it.
The skirt itself is a striped asymmetric midi skirt. I made it from four different pieces that are all slightly different lengths. And the two smaller pieces having a horizontal stripe and the bigger two having a vertical stripe.  I love the shape of the skirt and it flows really nicely. There is a slit in the front where the two front pieces separate so lets the skirt flow. And this skirt makes you feel like a badass when walking although I'm sure I actually look a state. But a girl can dream. Now I've mastered the pattern I shall definitely be living in this, I'm sure I'll have made it in every colour in a couple of months…
I styled the skirt with a simple black crop top from H&M. I tied it at the waist as having a loose top didn't look too right with the fit of the skirt. As well as wearing my black bum bag from Bershka which is just a plain black bag but perfect to throw on. It reminds me of Bella Hadid wearing her Alexander Wang fanny pack however mines just the £12 version and I don't pull it off as well as Bella…
On my feet, I'm wearing my One Star Converse. I love pairing the skirt with trainers. A perfect combination for a casual look. (I say this like I had another option but we all know that I live in these or my Vans…)
Hope you all enjoyed reading and I hope I'll be back soon with something else I've made!
Kate Xx