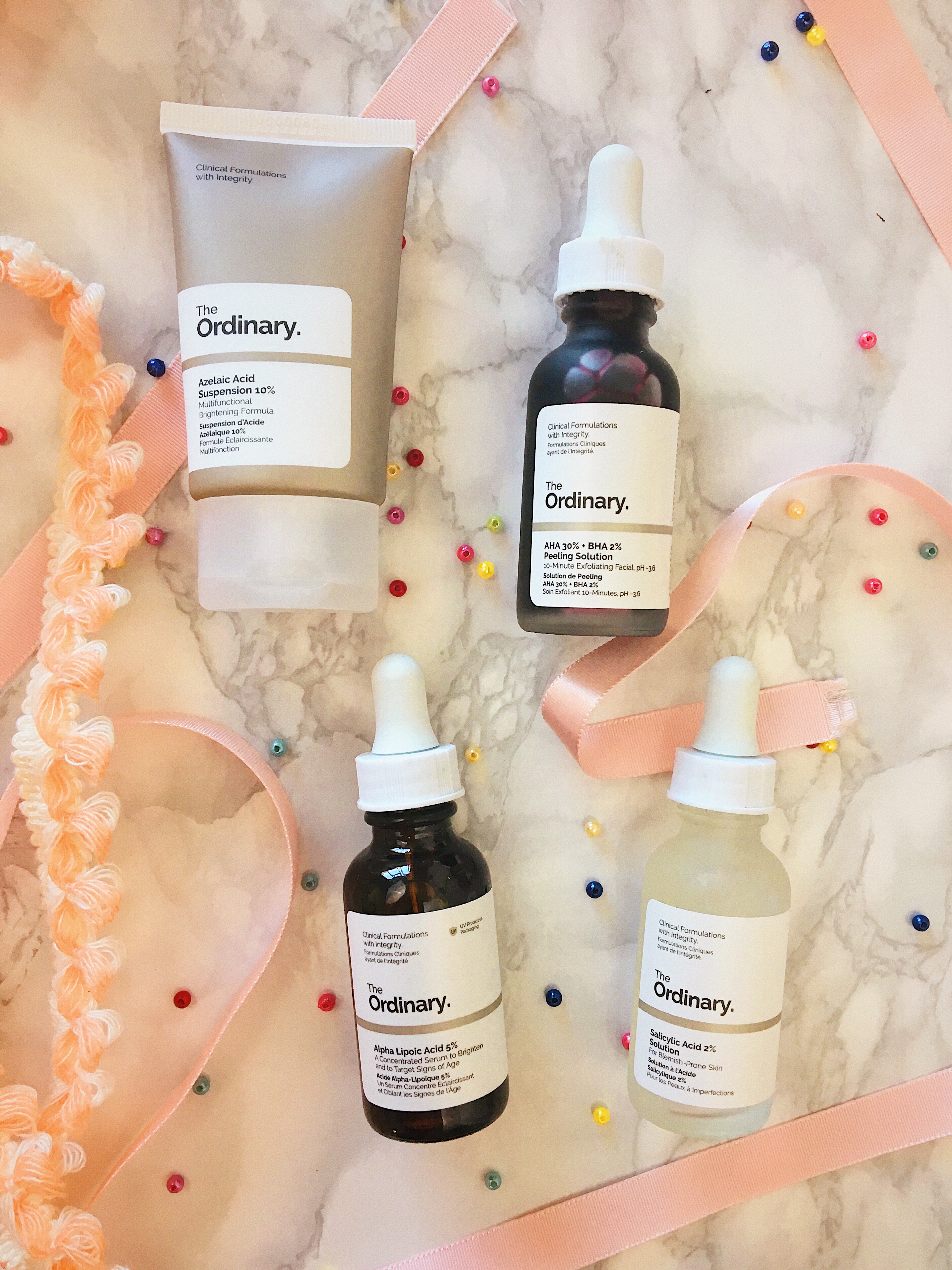 To be brutally honest, my skin has been a shit show at the moment. I've had some friends on my forehead for way too long now. I tend to get spots on my forehead when I'm feeling anxious but they don't want to leave. I was blaming my anxiety on school but I've been off school for a bit now and surprise surprise, they're still here.
So I decided to try The Ordinary after hearing many good things about their products and overall brand.
I love the overall brand image of The Ordinary. Their products are all very sleek and appealing. The acids come in glass bottles with a glass pipette. Which my sad-self loves. And all of their products are so affordable so I would 100% recommend. The acids are only a couple of pounds and will last for a long time as you only need a couple of drops. (In this post I've listed the current price they're sold at now but when I bought them they were all around £4!)
Salicylic Acid 2% Solution – For blemish prone skin – £4
I'm really unsure about this acid. The first couple of times I used it, I was genuinely blown away. I applied it onto my forehead spots and immediately the redness went down and my forehead looked SO much better! Then after I was using it every night continuously, it seemed to have stopped working on my spots. I don't know if this is because the my spots became use to the solution. Or that my spots coming through just overpowered the solution.
However for only a couple of pounds, I would recommend this. I still do use it but sometimes I feel like it doesn't help. You can also use it as an all over face solution which I do quite like. I have started using two drops of solution on my cheeks before moisturising and avoiding my spotty forehead. And I'm finding this does keep my skin quite clear.
Alpha Lipoic Acid 5% – To brighten & target signs of age – £5.90
This acid came with 'do not use on sensitive and irritated' skin. I have really sensitive skin so me being sensible me decided it would be perfect to give it a go. And it just shows that you do have to take risks and not listen to the rules because my skin has got on great with this acid. (However if you have sensitive skin and try this and it doesn't go well, don't blame me thanks). It applies nicely onto the face although you can feel that it's a strong acid.
I apply it before I go to bed when I do all my skincare and when I wake up my skin feels fabulous! As it's a strong acid, I really feel like it benefits my skin and does the job. It is said to'improve the tone and texture of the skin with gentle exfoliation, it's an effective means to treat scars, pigmentation, and dullness, as well as lines and wrinkles.' It definitely makes my skin feel radiant and has worked surprisingly well with my sensitive skin.
AHA 30% + BHA 2% Peeling Solution – 10min exfoliating facial – £6
I haven't used this mask that much as it is advised to stay out of the sun around the time period when using. I do really enjoy it however I wouldn't buy again. It is said to 'exfoliates for a brighter and clearer complexion. Fighting visible blemishes, continued weekly use reduces pore congestion and fine lines for a bright, youthful complexion' . It makes my skin feel fresh and I think I need to use it frequently more so I could see a bigger difference. I think my skin needs more moisture than this mask. As this mask is more for repairing your skin. So I still need to give this more of a go but for a first impression, I'd give this a 3 out of 5 stars!
Azelaic Acid Suspension 10% – Multifunctional Brightening Formula – £5.50
I had high hopes for this gel and I adore the formula of it. It's a cream-gel which is lightweight so glides on and absorbs into your skin instantly. It doesn't leave your face wet or sticky which I really like. 'Dullness, uneven skin tone, acne scars, and lingering blemish marks are targeted by this high (10%) concentration of high-purity Azelaic Acid.' I've been a fan of this product, it works well with my dry skin. And with continuous use I can really see this improve the redness on my cheeks.
It comes in a small flat tube so perfect for travelling however I can imagine this running out quite quickly especially compared to the acids. As I find this is the opposite of 'a little goes a long way'. But it is definitely worth the money.
My first impressions of The Ordinary have been very good and I've really enjoyed testing their brand. I would 100% recommend their products. Can't say no to affordable and high quality products!
Kate Xx