I've been loving the summer weather at the moment. I have already successfully burned myself as me being me put suncream on after I had been sunbathing. But I actually made it out of the house to spend the day in town with my sister. We went to the Double Fantasy, John & Yoko exhibition in the Museum of Liverpool which was amazing. I would definitely recommend if anyone is around as I found it so interesting and it's been put together so well. But before I go off on one about John Lennon, I loved my outfit so though I would share with you all.
I'd been on the hunt for a staple denim dress and found this beauty from Urban Outfitters. It's their 'denim button-through pinafore dress' and I'm in love with it. It's a simple dress but you can really dress it up or down. I wore it simply on it's own as I find it's one of them things that does enough on it's own! But wearing a top underneath works really well as well so perfect for the colder days!
The fit of the dress is gorgeous as well. It's not too short either as it passes the fingertip rule so I feel really comfortable in it. I did have the get a medium as the small was too tight on my boobs. This makes the waist a bit looser but it the heat the looser fit is much more comfortable. It came to £45 to buy with my student discount which I think is an alright price as it is amazing quality and will definitely last me for a long time!
To add a pop of colour I wore my Yellow Cross-body from Zara with the detailed strap. I love the yellow against the denim dress. And when wearing the dress on it's own, I love to add a contrasting colour to give more detail in your outfit.
(And if you're ever wearing a plain bag and need a bit of colour then tie a scarf that suits your outfit on your bag! Something that jazzes up your outfit so easily.)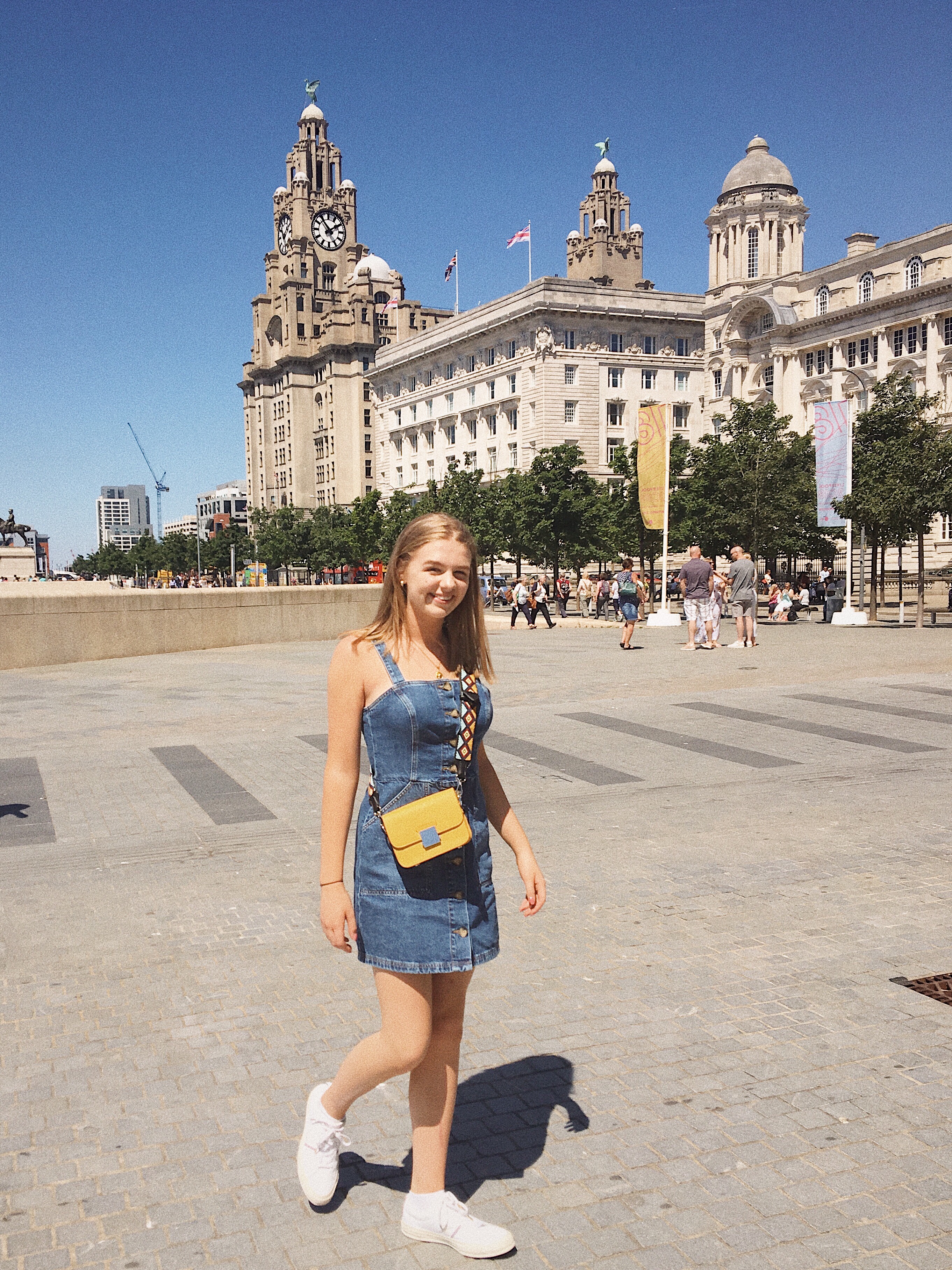 On my feet I had the debate of wearing sandals or my Converse. However I stuck with my trusty One Star Pinstripe Converse. These shoes are my favourites, they're a simple white trainer with a star on each side with small blue and red pinstripe detailing. I couldn't seem to find them online but I bought them for £45 at the time which is such a reasonable price for good quality shoes.
To finish the outfit off, I paired it with gold jewellery. As I love a gold necklace with the denim. So of course I wore my beautiful gold necklace from Foaki. I absolutely adore this necklace, it's a gold medallion necklace and is so beautiful. And is the perfect length to fill the neckline of the dress. And although you can't see my earrings, I wore my small Engraved Gold Hoops from Topshop. I love these earrings, they're small but quite thick so still make a subtle statement on your ear.
I shall definitely be living in this dress so I'm sure you'll all see it again. As I seem to just live in the same couple of outfits on repeat! Hope you all enjoyed reading!
Kate Xx