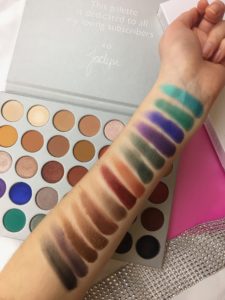 If you follow my twitter than you'd probably saw how desperate I was to get my hands on this palette and after being unlucky when it first came to BeautyBay, I wasn't losing out the second time around! Jaclyn has been one of my favourite Youtubers since day 1 and she's such an inspiration so of course I had to buy palettes in collaboration with Morphe to support my girl. I had high expectations for this palette as it's by Morphe and the Queen herself so I knew it would be worth the hype and it definitely is! I have a makeup or two coming up soon with this palette so today's post is all about the palette and it's currently still in stock on BeautyBay if you still want to get your hands on it.
Packaging – The packaging of this palette is super slick and I love the simple white with the silver writing as it' simple but looks glam. The cardboard sleeve has a little bit about Jaclyn and the palette as well as four gorgeous pictures of her and knowing me I'll keep this in my collection of packaging because for some reason I can never seem to throw away the cardboard packaging… I wouldn't personally say there is anything wrong with the packaging, I've seen some people complain about there not being a mirror however I never use palette mirrors anyway so I'm not too bothered. And the only other thing that slightly bothers me is inside the palette it's a matte white which is a pain when it gets dirty however this isn't that much of an issue for me as it usually just stays in my draw so doesn't get that much dirt and it's not that hard to clean!
Shades – What drew me toward this palette was the shade range it had as I love all the warm mattes as well as the pink shimmers and of course the bold blue shade was calling my name although I'm likely never to wear it out! I've been wanting some warmer toned mattes at the moment, there is some gorgeous neutral mattes like oranges and nudes as well as some more burnt oranges and burgundies which I live for in autumn. As well as some dark brown mattes and a bright turquoise. I was a bit unsure of the matte black when I swatched it as well but after using it on the eye, it has lots of pigment and would probably be my go-to black shadow out of the ones I have. The shimmers bring a big pop of colour to the palette and there is one for every eye look. The first two shades on the top row are both gorgeous and I love using them for highlight as they have so much pigment and are the perfect pearly shades. As well as there is light pinks on the top row which are gorgeous shades and I can definitely see myself loving these shades as they're not too bold shades. And of course I love the burgandy and golden shimmers which there is a couple of and the gold shade which is in the middle of the fourth row is absolutely stunning and seems never ending in pigment! And of course the bright blue and purple shimmers are insane, they're both such gorgeous shades and although they're not my cup of tea I love using them as they do look stunning on the eye, they're just very bold!
Formula – I had high expectations for the formula of the shadows as I love Morphe's eye shadow formula and I knew Jaclyn would get it perfect and she definitely did. All the shades are so smooth and creamy and apply so smoothly onto the eye and are all a dream to blend. And the pigmentation of all the shades is incredible, when I was watching I was a bit unsure about some of the matte shades as they weren't as pigmented as I'd imagined them to be but once I used them on my eye they were perfect and full of pigment so whether this was just due to the fact it was my first time swatching them. However I had no problems with all of the shimmer shades as the pigmentation of the shimmer shades is actually insane! I mean the blue shade in the bottom left corner leaves me speechless every time. I love a shimmer as well so all the pink, gold and silver shades are perfect for me and I can't compare them to any other shimmers I have as they're so pigmented and creamy.
Overall I've been so impressed with this palette and I'm so happy to have finally got my hands on it, it's been a long time coming. Jaclyn should be so proud of herself as she was working on it for around 2 years and she got it completely right, every shade is perfect and I can assure you that there will be lots of makeup look featuring this coming up soon!
And I'd just like to say farewell to all my other palettes because they won't be used in the next month or two as this palette has my heart.
Kate Xx